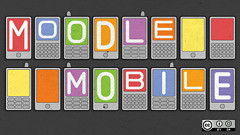 Time flies and since our last newsletter where we discussed the many benefits of moving to Moodle 2.1, we would like to update you with a quick overview of the best enhancements in Moodle 2.2.
With custom mobile themes, improvements to iOS5, and the Moodle App, your Moodle courses are more portable than ever.
Advanced Grading - Rubrics - Rubrics is the first plugin of a new 'Advanced Grading' plugin type. It currently works for Assignments and will be extended across all modules. Here is a nice video demonstration of Rubric Grading with Moodle 2.2 by Mary Cooch
Moodle Mobile Theme - Moodle 2.1 introduced the ability to select different themes for different devices, and now with 2.2 a standard theme in core is custom-designed for smartphone browser screens. When users visit your Moodle site on a small screen they'll see a completely different layout, that can be optimized for small touchscreens by MyMobile Theme.
Learning Tool Interoperability – Moodle supports the embedding of learning objects that support IMS Learning Tool Interoperability (LTI 1.1). This opens up plug & play use of a growing amount of interactive content. LTI is the ultimate "write once, run anywhere" mash-up solution for educational apps. Here is a great video discussion on Learning Tool Interoperability
Common Cartridge Import – Support to import courses that use this standard for packaging learning content is now available for Moodle 2.2.
Moodle profiles now supports globally recognized avatars Gravatars
Other enhancements
TinyMCE editor supports Safari on iPad/iPhone with iOS5
Conditional activities can be made available at an exact time
Mobile app enables download of all resources for offline viewing
Navigation block links to topic/weekly sections
Option to upload users to a cohort, and to add users to a cohort in bulk and more
Course listings can optionally display course short name everywhere
Activity descriptions can be displayed on course homepages
SCORM AICC improvements to handling of external AICC packages
SCORM reporting improvements including a new SCORM interactions report
Choice of which fields (email, department, etc.) are shown in a lists of students
More details in the Moodle 2.2 release notes