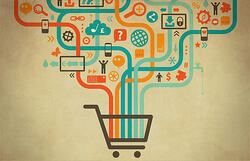 Organizations usually adopt a learning management system for one specific, internal purpose: talent development. Training through this type of tool is an efficient, cost-effective, and engaging way to transmit knowledge to people inside your company. At its core, that's what a learning management system is: a great interactive communication tool. So why not use that tool to communicate with people on the outside? Prospects, customers, and partners are looking to learn, too.
This approach goes a step beyond content marketing. Marketers have turned away from heavy-handed, traditional methods of pitching their wares at prospects, and have adopted content marketing as way of connecting and communicating with potential customers. This very blog is an example—we share information we think (hope!) will be useful to people interested in learning technologies. Sometimes, readers turn into clients. Sometimes not—and that's okay, we have still been able to offer them something useful.
The next step in content marketing is online learning for customers and potential customers. A learning management system can be used to engage with potential customers, educating them about topics relevant to them and your business. By way of example, Bank of America partnered with MOOC pioneer, Khan Academy, to create an eLearning program called Better Money Habits. The partnership uses fun, easy-to-watch video lessons to make free financial education available to anyone, with topics like understanding credit, home buying, and budgeting. There's a dual benefit for Bank of America: some users of Better Money Habits just might decide to become customers of the bank. And if they do, they'll come prepared with a higher level of understanding of the products and services the bank offers—making them better-educated, better-prepared, easier-to-work with customers.
The breadth of features available and multimedia capabilities in a system like Totara can allow for an exceptionally engaging learning experience. If you're thinking of using your training platform to engage customers by offering a free course, don't make it all about you. In an interview with The Daily Beast, Khan Academy Founder Sal Khan explained why his non-profit was willing to work with Bank of America:
"A lot of companies talk about education; it always ends up becoming spin and marketing. What was refreshing to me…[Bank of America] was genuine. I think they're smart. It is actually good for their business to educate people on a deep level."
Ideas for educational programs your company might offer to potential customers should extend naturally from your knowledge of your business. If you are a mid-sized business working in the healthcare sector, you could create a freely available course on elder care, including how to navigate the system, what kinds of alterations you might make to your house for mobility purposes, what to expect as your parent ages, and many other topics. You get the picture. And the same idea can be applied in any vertical.
It's good for business to educate people. You've invested in a learning management system to build up the talent inside your organization—but it also offers an opportunity to build your business on the outside, too.
We have dedicated our next webinar on the topic of using an LMS to Increase Engagement and Performance!
By Farshid Zavosh