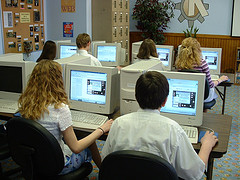 Blended learning helps students and trainees feel more engaged about the material they're assigned. It's not at all surprising – when you replace or supplement a student's textbook with an innovative way of looking at the material, you're already going to get their attention. When it comes to the Moodle LMS, what modules help students feel like they're collaborating and learning in interesting ways?
A little while back, we published a roundup of the best Moodle 2.0.x modules for improving course presentation and user experience. We're continuing along with our series, presenting the best modules we've worked with and would recommend, that improve learning engagement. Here's the quick list:
1. Team Builder
2. Flashcard
3. Dialogue
4. Lesson Objectives
1. Team Builder lets you build teams based off a set of criteria. "You ask your students some questions, and then develop a predicate based off their answers for your teams." It's also an effective drag-and-drop interface for building Groups, helping you save a little time on the administration side.
The University of New South Wales is using Team Builder in its courses. They have put up a handy demo video on how they are using it, with the example of sending out students on assignment various parts of Sydney to perform some interviews for a survey. Each group will have to visit a number of places in Sydney and ask strangers a series of questions and will want to track their progress.
2. Flashcard is pretty much what you would expect: you can create flashcards of questions and answers quickly and easily. While the focus in education in many situations is on building critical thinking skills, when it comes to memorizing key facts of geography, economics, HTML coding or just about anything else you can think of, flashcards are tough to beat. They work as effectively when you're 10 years old learning math tables or when you're an adult training memorizing warning signs to pass your hazardous materials transportation course. Repetition works – and since it's kind of fun, it helps keep students engaged.
And here's a demo on how to set Flashcards up on your Moodle LMS:
3. Dialogue lets students or teachers communicate in a two-way private conversation or with all members of a group.
OK, I know you may be wondering, in an age where pretty much everyone has an email account, if not several, isn't this module sort of redundant? Actually, there are advantages to using it.
For instance, one setting allows for the same message to go out not only to current registrants, but also future students who enroll in the course, saving effort. Also, a teacher may want to send a "read only" message, disabling replies. Another benefit comes in with course continuity – if one teacher leaves and a new teacher comes in to take their place, the new teacher has easier access to all of the messages for any relevant student groups.
4. Lesson Objectives shows current lesson milestones in the side bar (to both teacher and students). The teacher can check them off as they are completed. "You can enter a timetable, linked to different groups, so that objectives can be entered as far in advance as you want and will be displayed at the appropriate time." One important feature is that students can view all lesson objectives a week at a time to track progress.
Educator Gavin Henrick points to the obvious benefits to student engagement in being able to track their progress. Whether you're plodding through a biology class or running a marathon, everybody feels more enthusiastic after they've just passed a visible milestone.
Yes it is very easy to view, the student can just see what the objectives are for the lesson period and whether they have been met or not. This is a neat visual aid to aid motivation of students. The objectives can also be expanded to a popup for a clearer picture.
That's our list of the best Moodle modules for version 2.0 for student engagement. Do you have a different list? Feel free to leave a comment and explain why.