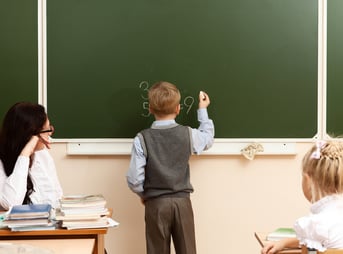 Current education reform debate in the US centers around the dilemma that high-quality teachers are in high-demand, yet the larger system in place to recruit and retain such teachers is ineffective. While the United States reports an aggregate teacher surplus, further analysis of these numbers indicate that there has been persistent teacher shortages for the past 40 years. Such shortages are indicative by geography, grade level and subject matter which is further multiplied when you factor in the falling quality of the average teacher.
Why is there a Teaching Shortage in the US?
Research from experts at Clayton Christensen Institute for Disruptive Education pinpoint the three causes of teacher shortages since the 1960's as follows:
Women's Rights: policy makers have not adjusted state-determined teacher pay-scales to compete with new, and often times, higher paying professions that women are moving into.
Workplace technology: due to advances in technology, comparable professions such as accounting, and nursing have seen a growth in productivity which correlate to a growth in salary. Financial gains in non-teaching professions have resulted in a net outflow of educated women from teaching.
Socio-familial drivers of teacher behavior: those who have self-selected into K-12 education commonly have the following characteristics: 1) they are married women who work as the secondary bread-winner 2) they are prone to leave the workforce to raise their own children, and 3) they tend to work very close to the place where they grew up.
The culmination of these factors have made it extremely difficult to physically relocate the U.S. teacher supply, which currently sits between 9 and 10 million Americans, to fill 3.7 million teaching positions. This especially rings true in rural communities, where there are few job prospects for a teacher's spouse. Exacerbating the issue further, in urban areas, would-be teachers migrate away from teaching due to higher paying alternatives. What is required then to remedy this immobile and uncoordinated workforce? Research indicates that online learning and teacher labor market coordination is the answer.
How will Online Learning Solve the US Teaching Shortage?
Given that there is in fact a surplus of teachers in the U.S., policymakers must implement cost-effective tools that can distribute the teacher supply, as opposed to growing it. Online learning presents a unique opportunity to fill teaching vacancies with high-quality professionals.
When online learning first appeared in the early 1990's, it served students who were unable to attend school, or students who required courses that could not be provided by their school. The online learning provided to students back then was by no means a quality experience, but it was better than the alternative, which was nothing.
Today, online learning programs have matured, and serve a growing portion of the K-12 students. Between 2007 and 2012 alone, online learning programs grew by more than 230 percent in the U.S.—from 750,000 students in 2007, to 2.5 million in 2012. This growing demand has catalyzed 32 states in the U.S. to purchase online learning management systems so that full-time, online schools can be provided to K-12 students in these states. As the online learning experience improves, students, educators and policy makers alike are recognizing the benefit of the convenient, customized, and flexible education that online learning provides.
Coupled with this, evidence also suggests that online learning will provide equal flexibility to match the right teachers with students in need when this is not otherwise possible. Research from an OECD report published in 2004 indicates that the best way to attract and retain high-quality teachers is to provide flexibility. Online classes provide this flexibility by providing a medium to connect high-quality educators to students in any subject area, at any grade level, anywhere in the country. Such factors of online learning then offer a solution to the geography, grade-level, subject matter and quality issues of the long-running teacher shortage in the U.S.
How will Online Learning Benefit Districts?
With online learning, teachers will no longer be required to serve a single district, or live in close proximity to their school of employment. This will benefit districts because they will not be constrained to hiring local teachers with restrictions for full-time and part-time work. This would effectively diminish labor coordination problems, as districts would have the freedom to hire any teacher across the country and be able to provide services to as few or as many students as needed. As more and more students and teachers opt for online learning, technology will improve to provide a blended learning experience that exceeds the traditional mode of education.
Summarized from the whitepaper, Solving the Nation's Teacher Shortage by Mallory Dwinal.