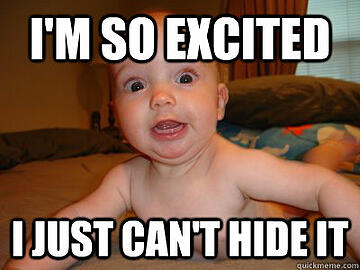 Moodle 2.7 has been released and—yes—we are excited! There are a number of features that have been added with this release that have us doing a happy dance. Here are a few highlights.
New Editor
Moodle has it's own text editor now and its called Atto, which is "tightly integrated" with Moodle. Its focus is on accessibility, and it includes support for equation editing. If you're a fan of the old text editor, TinyMCE, don't panic. It is still available for those who choose to use it. We think you will want to give Atto a try though.
Conditions
Version 2.7 also supports complex boolean combinations with a conditions plugin API and a better interface. It's so much faster. Think about it; this means you will be able to satisfy "any" or "all" specified conditions, such as a date range, minimum grade, groups, user profile attributes or nested restrictions. #Winning.
Themes
Themes have also been improved in version 2.7, with most old themes removed (again, don't panic. They are still available through plugins). The default theme is now 'Clean', which gets an improved bootstrap-based responsive design.
The beautiful thing about Bootstrap is that it's also an open source program and it is all about mobility. The layout of web pages adjusts dynamically, taking into account the characteristics of the device used (desktop, tablet, mobile phone). Anyone working in online education these days knows that mobility is key.
Quiz
Looking at the release notes, you will see a lot of improvements related to the area of quizzes and question banks. You now have the ability to duplicate a question with a single click, the ability to require an attachment for essay questions and the ability to save changes and continue editing. I can hear some of you cheering on this one already.
Assignments
The features in this area have also been improved. In a nutshell, here's what you need to know:
A new check box allows you to control when you notify students about feedback
If you use online text you can now restrict the maximum number of words students can input
You can now comment directly on their submission
Administrators can allow instructors to edit or delete submissions (on behalf of the student).
Log-in
This one is getting a lot of attention. A new feature in Moodle 2.7 allows the administrator to enable users to login using both their username and their registered email easily. Your administrator will be jumping up and down at the prospect of losing all of those "I forgot my password" helpdesk tickets. Let's be honest: it means less embarrassment for users as well.
Support
There's another thing that will make administrators happy. Moodle 2.7 is a long term supported release. It will have an extended support of 3 years (until May 2017) for security and data-loss fixes. We should point out that this is twice the length of other releases. You can tackle your long-term projects knowing you have a stable platform.