Course Creation in Moodle
There are a few best practices to follow when it comes to creating Moodle courses. Here are some things to consider.
Keep students engaged by having activity based courses (with assignments, and quizzes), or socially based (with forums, chats, and wiki's). Sticking to only one delivery method can cause boredom, but changing up the delivery method keeps the mind stimulated.

Set clear expectations for your courses from the beginning. This could be the expectation for how long each learner is expected to spend in each course, technical expectations, expectations for the course format, or expectations for how you will communicate in the course. Knowing your expectations allows you to better measure the outcome.

Be sure to ask questions that force learners to apply the principles they are being taught.

Provide examples whenever possible.

When determining which activities to include, look at 3-5 activities and learning resources, and try to imagine how they can be used, and for what purpose. Our Top 5 Picks for Activities are Page and Book Learning Resource, Label, Forum, Quiz, and Choice Activity. We will go through each of these more in depth.
Page and Book Learning Resource
Both of these learning resources allow instructors to build content right within Moodle. What's even better is that they can do this without having to know HTML, thank to the handy Text-editor, which functions a lot like any word processing program. In addition, developed content can contain text, as well as rich media, such as images, audio, and video to really engage learners. The benefits of the "Book" over the "Page" are that the book can contain multiple pages, as opposed to just one.
Label
Labels are great for creating structure and hierarchy in your course, while also providing instructions to learning right in the top layer of the course.
Below, you can see an example of a course using the Label to provide instruction, and create structure on the course page.
Moodle Forums
Students learn best by creating, talking, writing, analyzing, and explaining. For these reasons, the forums can be a strong communication tool used to discuss and explain concepts used in the course, while also acting as a catalyst for thinking and learning. An example of a forum we will share with you is the QA forum, where students can first answer questions posed by an instructor before seeing how other students have responded. This fosters independent thinking, while also utilizing the power of social learning.
Moodle Quiz
This is one of the most commonly used Moodle features. While this is a very traditional classroom component, there are ways of modernizing quizzes by adding images and audio. These can include descriptions to help learners who have visual impairments. Tip: When setting questions on a page, it is recommended to include 1-5 per page to avoid performance. Try to think of 100 questions, all loading media, on a single page. It can really slow things down and cause major time lags, so fewer is better.
Choice Activity
This feature, used for polling, can be a simple and effective way to build interactivity within a course. It's also a great tool for getting feedback from learners on what they have taken away from a learning resource, how they feel on a particular topic, and even how they felt about the material used in the course.
Managing a Moodle Course
Course Categorization
Moodle acts as a container for courses, and if you have more than a few, you can organize them under categories. Based on the particulars of your organizational context, you may have for example a subject-based categorization, or a level-based categorization.
Using Course Backups
You can use course backup files as templates to build other courses. Using the automated course backups can also help with recovering deleted learning resources and activities.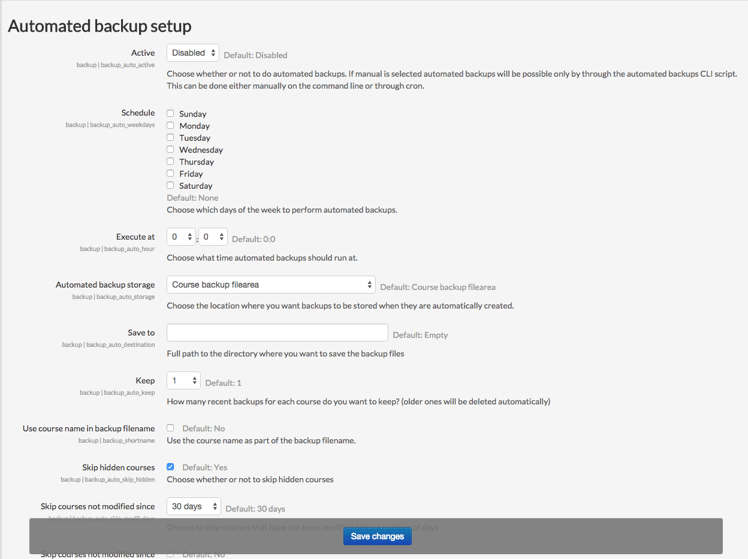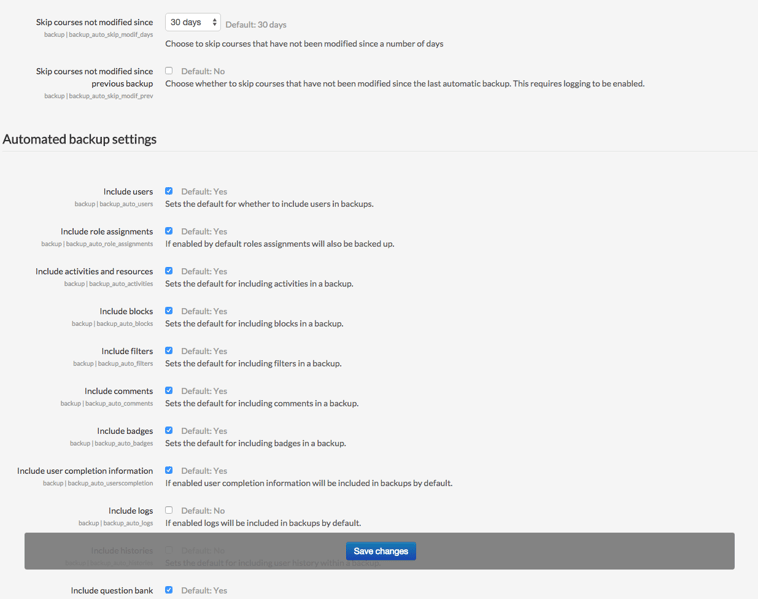 Archiving Course Strategies
While there is no one correct approach to archiving courses, we find that many might want to consider taking the following steps:
Make a backup of the course. You can do this either through a manual course backup, automated course backup, or a full copy of the site. Please note that the last option can sometimes be difficult to restore and manage.

Store the copy of your courses and your site outside of your hosted platform, such as on a network drive behind lock and key.

It is best practice to store backup copies on a separate storage device, NOT an office computer. If anything happens to the computer, whether it gets lost, stolen, or damaged, you will lose that data, and you will have a serious privacy breach issue.

Store 2 or more copies of all content, in case one of the copy is corrupted v or compromised. As well, it's good practice to store the backups of content on a separate storage device.

After making and storing a copy of the courses and site, make sure you remove all old courses that are no longer needed from the production site.
Looking for more information on how to use Moodle? Take a look at our Complete Moodle User Guide. If you want to read the full Moodle Installation & Setup guide, click the link below.
Want more Moodle Learning Resource?