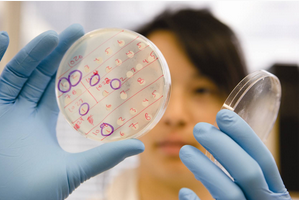 About Mt. Sinai Hospital
As one of the top teaching hospitals in North America and one of Canada's pre-eminent patient care, research and academic health science centres, Mount Sinai Hospital in Toronto has a well-earned reputation for excellence.
The organization focuses on patient and family-centred care, as well as increasing its role as an academic health sciences centre and teaching hospital. Mt. Sinai includes a 472-bed patient care facility and is renowned for building partnerships with its local community.
The Opportunity
In 2012, Mt. Sinai Hospital needed to develop a program to provide specialized ostomy training to new nurses. They had donor funding and organizational support to carry out this project through online learning, but Learning Management Solution they were using wasn't meeting their needs. They required an LMS that would be able to accurately track learning paths and progress to ensure nurses were trained correctly.
"The whole experience in health care is about the patient and when it comes to training, you have to put the patient first," says Cindy Plunkett, eLearning Project Lead and LMS Administrator at Mt. Sinai Hospital in Toronto. "It's not about getting an A, or getting 75 percent and squeaking past, but learning the information and retaining it for years later." They needed an LMS that could deliver that level of training and tracking – and they needed it fast.
"Donors don't mind giving you their money, but they want to see results extremely quickly," Plunkett notes.
Evaluation Process
Mt. Sinai's Project Manager for this LMS implementation had heard of Moodle and thought it could be a good option for delivering the high standard of teaching required. "Moodle allows us to ensure the nurses learn the information and retain it," Plunkett says.Lambda Solutions was contacted early on in the evaluation process. Ultimately, they were chosen for their wealth of experience in implementing Moodle for large organizations. Lambda Solutions was seen as a very reliable provider with extensive experience.
Solution
In 2012, Mt. Sinai contracted Lambda Solutions to develop, host and support the Moodle LMS and provide customization for the front-page design of the nurses course. Training was also provided to ensure Mt. Sinai's staff would be able to run the course.
Results
Moodle LMS implementation that meets Mt. Sinai's education needs. "Lambda Solutions was able to get us up and running within just a few months, including all of the customizations we needed done," Plunkett says.
Training to make course delivery seamless for trainers and trainees. Thanks to Lambda Solutions' extensive experience, they were able to provide suggestions about how to deliver course content in a more effective way.
Improved capabilities for Mt. Sinai to offer more courses and retain its edge as one of Canada's top teaching hospitals. Implementation of the Moodle LMS was done as a pilot project. Once the hospital has been able to deliver the complete course, they can begin offering a wide range of cutting-edge training.
"We couldn't have done it on our own," Plunkett says. "We needed a company with a lot of experience getting Moodle up and running and getting a solid environment going. We also needed it in a short time frame. Lambda Solutions delivered."
Lambda Solutions is presenting at the eACH Conference happening in June 2013 at the Li Ka Shing International Healthcare Education Centre - St. Michael's Hospital in Toronto. We have experience in helping implement Moodle for the healthcare sector and will share some of what we've learned from our experience.