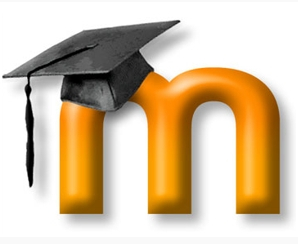 Moodle 2.5, the latest scheduled release of the world's most popular Learning Management Solution, is out this week. For many of those thinking about upgrading Moodle (official support for ver. 2.2 ends in June), or switching from another LMS over to Moodle, now is a very good time, before the summer rush.
The new features of Moodle 2.5 for eLearning administrators, teachers, trainers and students include improvements in usability, design and functionality. Some highlights include:
Badges – a knowledge certification game changer? A potentially game-changing add-on, badges are earned for completing a task, course or activity; it's visual shorthand for knowing how to do something, since degrees, diplomas and certificates don't always tell the full story.
As an example, imagine an oil and gas industry firm's human resources manager working their way through dozens of nearly identical resumes, drilling down for a specific level of safety training that might not be reflected in a line item like a diploma certification: a graphical badge on an online profile would help the trained prospective employee stand out instantly, helping the right person get the job and saving the HR department from productivity loss. Badges are a natural extension of Moodle's increased focus on learning outcomes and it could have hugely beneficial consequences for training programs and hiring practices. (More on open badges in a future post.).
Better user experience. Shorter forms and quick "jump-to" options are just some of the new features that add up to a better user experience. As the basic Moodle has grown to include more add-ons from the open source community as built-in features, some elements of the user experience actually declined; for instance, forms got unmanageably long and scrolling certain extensive pages started to get unwieldly; Moodle 2.5 brings back the ability from 1.9 to jump down below your current section by using the Jump to dropdown.
Making Moodle mobile. When we were at the Vancouver Moodlemoot 2013, Moodle Founder and Director Martin Dougiamas noted several times that going mobile was a big priority for Moodle. More and more Moodlers are accessing the LMS via smartphones and tablet devices. That makes Moodle's new themes suited to all screen sizes very timely (if not slightly overdue). The new base theme, Bootstrapbase, that includes the basic features (and a "Clean" version which adds simple configuration options) is an example of responsive design: "on phone or tablet screens blocks move to the bottom, freeing up space for the main content at the top." (Learn more about how we can customize your Moodle theme)
Here's the full list of features:
1 For teachers and students:
1.1 Badges
1.2 Forms are much shorter
1.3 Reports moved to the Administration block
1.4 Quickly "Jump to..." another section
1.5 Drag and drop media and text onto the course page
1.6 Folders can be displayed inline on a course page
1.7 Assignment enhancements
1.8 Word count in forum posts
1.9 Templates for Essay question types
1.10 Glossary block enhancements
1.11 Search the list of enrolled users
2 For administrators:
2.1 New themes suited to all screen sizes
We have helped many organizations upgrade their Moodle, or migrate courses from another LMS to Moodle. Interested in upgrading to Moodle 2.5? Contact us today to learn more about how we can help your organization