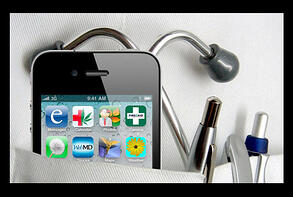 The Moodle LMS upgrade to 2.5 included a major improvement in mobile eLearning. We're only just beginning to explore the possibilities, as we did in mLearning Q&A Part 1. The Mobile Learning Shift.
Continuing on with our conversation Mount Sinai Hospital eLearning Project Lead & LMS Administrator Cindy Plunkett, we looked at how mLearning can work for the healthcare sector.
Lambda: Why implement mLearning in healthcare specifically?
Cindy: When you think of the physician demographic, they're already using mobile devices in their clinics. They were essentially using mLearning even before we coined the term. Physicians are on their smartphones all day long, getting the information they need to do their jobs.
On the one hand, nurses tend to be more desk-bound. But when we look at training curriculum that's not hospital-based, like the Rachel Flood Advanced Ostomy Certificate Program, nurses tend to complete their learning after work. Nurses who are able to learn from home or at their child's soccer practice can keep up-to-date on relevant skills that save lives while having balance in their personal lives. It's really a win-win for our society.
Lambda: Are there any other examples of how mLearning can be a solution for the health care sector?
Cindy: Most people are aware that in rural parts of the country it has been especially hard to retain physicians and staff for rural emergency rooms. These jobs are professionally unattractive because physicians feel ill-equipped to properly take care of patients, meaning in some situations they might even do more harm than good. You can end up with a situation where a community doesn't have access to healthcare. That's a huge challenge in the healthcare sector – and it's where mLearning can be a solution.
The Supplementary Emergency Medicine Experience (SEME) program is run out of the University of Toronto to help cope with this particular challenge. The Federal Government provided funding for a blended learning program that resulted in 100 learning modules available through a mobile learning app. Physicians can use it to help diagnose emergency problems, accessing it on their smartphone – online or offline.
If you're an emergency room healthcare provider in Sioux Lookout in Northern Ontario, for example, you might not have the time or opportunity to go look on a desktop computer, but you can have your smartphone with you to get the information you need.
Certainly, the hope is that programs like this can help solve the challenge of providing healthcare wherever it is needed.
Moodle 2.5 is fully mobile. Contact us to learn more about how to implement mLearning for your organization