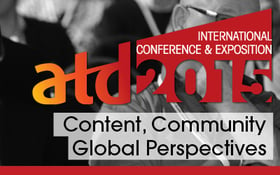 Lambda Solutions will be attending the ATD 2015 International Conference & Exposition in Orlando this year. Lambda looks forward to networking with industry peers, engaging and discussing with keynote speakers, and building relationships with training partners. Fellow attendees will include Apple, Amazon, Coca-Cola, Facebook, Yahoo!, and HBO.
The ATD Conference is not only the largest event for talent development professionals, but also the largest expo for learning and talent development worldwide. At ATD, you learn current and future trends, and find out how to apply them on the job to get results. A few of the conference tracks will include training delivery, global human resource development, instructional development, learning technologies, and learning measurement and analytics. For anyone attending, Lambda will be stationed at Booth 1521 - hope to see you there!
Lambda and ATD are also partnering to offer a webinar on April 22nd to educate people on current Breakthrough in Blended Learning. For further details on the webinar, check out the webinar page here.
The press release can be found here:
Lambda at ATD 2015 Press Release