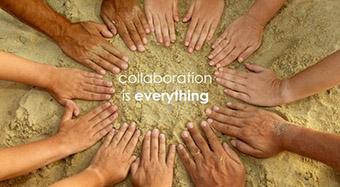 In Informal Learning at Work Part 1 we introduced what informal learning is and how it occurs in the workplace. We also highlighted research that found that the informal learning activities that occur most frequently are the ones that happen without intentional involvement from learning and develop managers. Additional research tells us that successful employees learn most from informal activities—as much as 75-90% to be exact! Here is the top 10 most frequent informal learning activities that learning and development managers are currently not taking any part in.
Water cooler encounters
Conversations with colleagues/co-workers
Collaboration with colleagues
Trial and error
Using the web
Reading professional journals and/or magazines
Reading blogs and feeds
Informal mentoring
Discussions with supervisor/manager
Social networking
Due to the fact these informal activities occur often, without any intervention from learning and development managers, there are many implications as to how they can be encouraged, managed and measured. Let's take a closer look!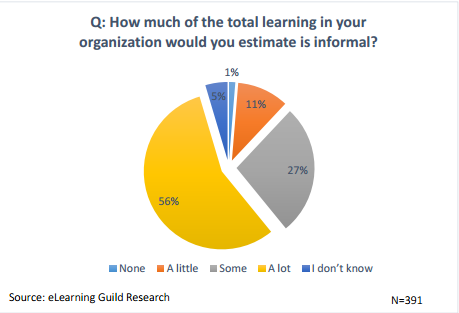 Supporting Informal Learning Activities
While we know it is not easy, changing company culture is a large part of ensuring that the aforementioned informal learning activities are encouraged. While the list above is expansive, the majority of activities can be supported by the following three types of organizational attitudes.
Encouraging collaborative and collective decision making practices. When employees trust one another and feel comfortable politely expressing their opinions, collaboration will flourish. Developing trust and cohesive among employees can be tough but there are definitely strategies to help this process along. Team bonding events where talent can work towards a common goal that is unrelated to work is a proven strategy of achieving said trust.
Reward employees who take risks and do not punish failure. You know the saying 'sink or swim'? Well this applies well here. No matter what industry you operate within, innovation and change are constants that will ensure competitive advantage and success. If employees are encouraged to implement innovative new ideas and rewarded despite results, trial and error learning will rise significantly.
Purchase organization related company journals/magazines and leave them in common areas where employees take breaks. If you have the budget, this can be even more effective if you provide your talent with monthly e-subscriptions to relevant magazines so they can read at their leisure. If you can't provide subscriptions to all employees try a library system so that magazines can be brought home and returned at a later date!
Managing & Measuring Informal Learning Activities
Since the informal learning activities listed above happen without intervention from learning and development managers, they are very difficult to track and measure. It is not impossible though. Later this week we will cover additional strategies for encouraging and supporting informal learning at work, in addition to providing clear metrics for gauging the informal learning activities you promote.
For similar content to this, check out our Webinar on Improving Employee Performance and Engagement.