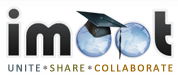 The Moodle iMoot is an annual event where the Moodle community—which is now more than 32 million users -- are provided the opportunity to join together on a global scale. This web based event engages a global audience of Moodle practitioners, administrators and decision makers in one online e-conference!
While many regions hold Moots for people that can locally attend, the value of the iMoot is that it is 100% online – leaders and learners from around the world can connect regardless of geography. The iMoot aims to bring all these people together into ONE PLACE to truly unite the global Moodle Community, to allow both Experts and Practitioners to connect together at a single time to share ideas, thoughts and pedagogy across languages, timezones and borders.
iMoot Details
The iMoot starts today, Friday May 25th, at 2pm PDT (Pacific Time). Sessions run 24 hours a day, for four days straight, with 6 keynote presentation and 168 hours of sessions. At any time of the day or night, there will be an iMoot session occurring. A full list of the sessions are available on the iMoot website, with numerous "How To's", "Case Studies" and "Academic Paper" sessions.
All sessions at the iMoot are being recorded, and are immediately available to attendees 12 months after the conference. With registration at just $80 AUD, it's a very valuable and affordable Moodle skills development opportunity.
What is Lambda Solutions role?
Lambda Solutions is excited to have two separate presentations at the iMoot this year. This will be in the popular "Chad and Ben interview" format that is dialogue based instead of a one-sided broadcast. Each session will be delivered twice to accommodate Moodle users regardless of their time zone:
Activity Completion
· Completion tracking can be used to report on the students' progress in a course or if a student has met the recommended prerequisites of a course. The Completion tracking feature works on two levels of Course Completion and Activity Completion.
· Sunday, May 27, 8 am PDT; and Monday, May 28, 3:30 pm PDT;
Making Your Moodle Mobile
· Moodle 2.1 introduced the ability to set different themes to be used when different devices are detected. Moodle 2.2 now has a standard theme as part of the core which was designed for smartphone and tablet browsers screens.
· Sunday, May 27, 9:30 am PDT; and Monday, May 28, 5:00 pm PDT;
We look forward to connecting with you and Moodle users around the world at the 2012 iMoot!