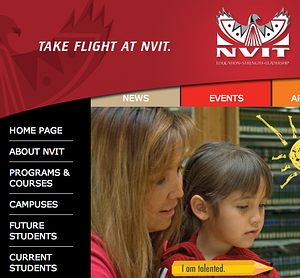 How can your school or post-secondary institute ensure consistency in practice for courses taught through Moodle? You want your teachers to be able to focus on the teaching and students to focus on learning the courses, instead of dealing with confusion with course enrolment right at the start. Giving students easy access to Moodle through streamlined provisioning helps get them off to a great start.
Lambda Solutions helped the Nicola Valley Institute of Technology in BC overcome these kinds of challenges. An early adopter of online learning capabilities, NVIT had been using Moodle since 2004, but adoption was not consistent.
"Sometimes students would register for Moodle courses on their own," says NVIT Director of Finance and Integrated Systems Cathy Carson. "Other times, the teacher would register for them. And when students signed up midway through a term or switched classes, there was even more inconsistency regarding the registration process."
With Lambda Solutions' help, NVIT recognized that when students registered for school, they could also be registered with Moodle system. That integration would "smooth out the lumpiness for students and faculty", making it a seamless one-step activity.
NVIT has a SharePoint system running with an add-on from their ERP called Datatel Portal. The institution wanted to create a unified system that integrated the ERP, SharePoint/Portal and Moodle and enable the creation of courses in Moodle via a web server in SharePoint. Additionally, NVIT wanted to move from internal user authentication in Moodle to using LDAP/Active Directory.
Lambda collaborated with OA Solutions (Datatel Partners) to facilitate implementation, and the project went ahead over a winter break. "They pulled out all the stops and by the end of December, the new system was ready," Carson said.
Today, NVIT continues to be at the forefront of incorporating balanced learning and eLearning options for students. They offer over 40 classes across several departments with 10 to 30 students each using Moodle day to day.
Integration of web portal has been seamless. "It's magical to some folks," Carson says. "If students are in the first week of classes a late registrant, they can go on the Moodle site and see they're in the list. The added value is through not doing manual processes that can take a lot of time." She notes that the teachers in departments using Moodle extensively will be able to present to their peers in other departments to ultimately expand the reach of Moodle throughout NVIT.
Learn more about Lambda Solutions' Moodle installation services and Moodle support services to help implement a learning management system the right way.