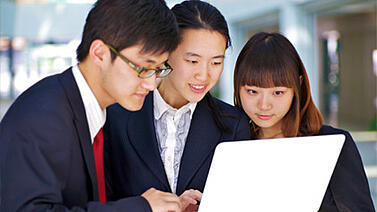 According to a research report released by Euromonitor International earlier this year, Asia Pacific has emerged as the largest market in the world for consumer education spending. Among Asia Pacific's top 5 education markets—Japan, China and South Korea represent the largest markets to date.
Even though these 3 countries have the largest markets, not all are experiencing significant growth. As a result, Japan, China and Indonesia are the most promising for expansion. Opportunity within these countries is especially promising for e-Learning education providers who specialize in new technologies, communication tools, and new media development. While consumer education expenditures between the leading country (Japan) and the 5th leading country (Indonesia) differ by about US $60 billion, all Asian Pacific countries share historical trends allocating a large proportion of household spending to education. Don't let the numbers fool you though. Let's take a closer look at each country to see which regions are the most promising.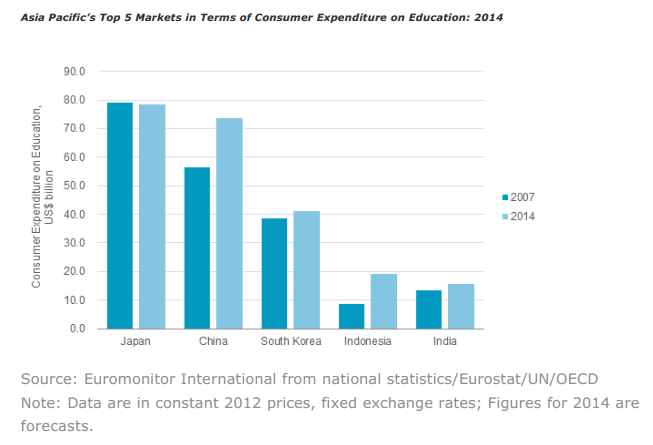 Japan
While Japan continues to be the largest market for consumer education expenditure in Asia Pacific, growth appears to be stagnant. 2007 was a record breaking year for Japan with US $79 billion spent on education. Since then, the market has not been able to recover to its height and is only expected to experience growth of $1.2 billion this year or -0.7%. Reasons for Japan's stagnant growth can be attributed to the aging population and the younger generations' push away from tradition resulting in a decline in marriage and child rearing.
As a result, in the next 50 years Japan's population is expected to decrease by one-third. Regardless, Japan is still the second largest education market in the world. Current opportunities to expand into Japan's education market lie within partnerships between universities for joint degrees. What does this meaning for eLearning? Well, a lot. Offering joint degrees between universities means one of two things—either the student will complete the joint degree in their home country online, or they will travel between the two institutions. As distant learning gets better and better, and as travel costs increase, it is becoming increasingly more common for students to stay in one place to complete the joint degree.
China
If China meets expected consumer education spending of $73.8 billion this year, their education market will have grown by 31.1% since 2007. Compared to Japan, this growth is significantly larger indicating healthy opportunity for lucrative expansion into China's education market. Due to the fact that Chinese consumers are extremely brand conscious, joint degree options with brand name universities oversees are in high demand. Due to the fact that joint degrees allow Chinese students to receive oversees degree via eLearning, learning management systems will benefit from being completely replicable in the Chinese language so foreign students can easily navigate their online learning environments.
Indonesia
Between 2007 and 2012, consumer spending on education has grown by 89.3% outperforming all other Asian Pacific markets. This year, total consumer expenditure on education is predicted to be $19 billion which is $1.4 billion more than in 2013. Rapid growth of Indonesia's education market is attributed to their weak labor market. With a shortage of skilled laborers and low levels of university educated citizens, both training and higher education are in high demand. According to Euromonitor International, consumer education expenditure in Indonesia is expected to grow by 47% between 2014 and 2020. Training and higher education that can be offered at a low cost, online, will prove to be profitable for education institutions offering these services.
For further insight, check out our Guide to Accessible eLearning. Learn how to make it easier for users to perceive, understand, navigate, interact, and contribute to the information and functionality that make up your learning management system.