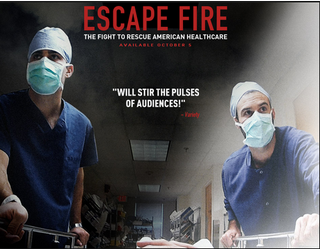 We're proud to support the healthcare community with online education and training solutions. This is definitely an area where we can see immediately how online learning can translate into real-world healthy outcomes for trained staff, health organizations and -- most importantly -- patients. We help our healthcare sector clients with online learning implementation, managed hosting and support for the Moodle Learning Management System (LMS) and partner with Totara for workplace learning and compliance certification, in healthcare and beyond.
Attending a screening of the film Escape Fire: The Fight to Rescue American Healthcare, and subsequent panel discussion completely reinforced our ideas about the challenges facing the healthcare sector -- and how online training can help.
We see that costs are crushing the US and Canadian healthcare systems and patient outcomes have plateaued. The movie highlights that over $1 billion was spent by health related lobby groups trying to ensure Obama-care worked for them... rather than patients.
We see that better education and training could do much to change a paradigm of a healthcare system; right now, trained healthcare professionals who want to succeed have to see more patients; prescribe more medication; schedule more tests and procedures. In terms of health care expenditures per capita according to The World Health Organization, Canada spent the 10th most and has a system that ranked 30th out of 191 countries. The United States spent the most per capita, to earn the lofty ranking of 37th. The US now spends over $300 billion a year on prescription drugs; almost more that all the countries in the world combined. As of December 2011, the Canadian prescription drug bill was just over $22 billion.
Tthere's no getting around the vital importance of better education -- and online learning certainly will play a big role in that -- in fixing this healthcare system. At some point every stakeholder in health care, doctors, nurses, emergency services, pharmacists, administrators and most importantly the patients need education to improve health outcomes while doing more... with less.
The film presented some solutions that are akin to what we see when we talk more generally about eLearning solutions. Having conversations including the patient (in some circles now being referred to as the "health consumer"); focusing on positive outcomes (as eLearning professionals and educators are focusing more and more on learning outcomes); and discussing the impact which educating through the whole health continuum from prevention to treatment will have on us is paramount. Health needs to be talked about in a broader context.
Education will make a difference. Imagine the positive impact on our system when Doctors taught more than four hours about the importance of nutrition, versus the countless hours they are lectured about treating heart disease. We need more focus on causes, than simply treating symptoms. Implanting another stent doesn't make someone healthy. Changing the system through education isn't easy. It took 16 years of education and research for Dr. Dean Ornish to have his healthy heart program to be finally covered by Medicare.
By educating all of our stakeholders from the patient to the top decision makers about wellness, about making healthier lifestyle choices, and about taking ownership for our health, we can educate ourselves to a healthier system for all.
Thanks to Michael Bidu of Santron for bringing this eye opening movie to us and for hosting a local panel of experts including Allan Seckel, (CEO BC Medical Association), John Waldron, (Director, Enterprise Architecture, IMITS serving PHSA, VCH and PHC), Dion Madsen, (Senior Managing Partner of the BDC Health Venture Fund), Rizwan Kheraj, (Industry Technical Advisor, IRAP), Aaron Apodaca ( Advisor, California HealthCare Foundation). Their candid thoughts and wishes for changes in healthcare in BC -- and a conversation that sparked lots of thought about eLearning in the healthcare sector, were inspiring.