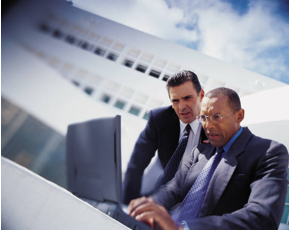 Using a Learning Management System (LMS) like Moodle for corporate training solves a number of problems that have plagued organizations since… well, since there was such a thing as corporate training. Moodle is a fully-customizable platform allowing employers to conduct training in a consistent way, tracking progress and outcomes and handling details like certification automatically – at a lower cost than other alternatives.
"The benefit of Moodle for companies was something we were thinking about from the beginning of when Lambda Solutions started," says one Lambda Solutions executive. "ICBC, a large insurance company, was looking for a learning management system to do training. At that time, we were looking at several open source learning management systems. We chose Moodle because it seemed to be one of the more advanced services. It was also based on PHP, a technology which was easy to customize. I think that for our customers, cost was the biggest factor. Moodle is open source, so there's no licensing fee."
For that project, Lambda helped ICBC create three courses to streamline delivery of crucial information. All courses had a self-paced learning environment, capability to sign up new users and login returning students and a simple layout and instructional design. "ICBC Online Education have been extremely please with the progress of the entire project," notes ICBC's website. "Although the courses have only recently been launched, feedback has been very positive in this internally ground breaking development."
The National Health Service provides another interesting case study in how well Moodle can work for seamless and cost-effective organizational training:
This works particularly well for us as we are dispersed across 76 sites and managing a paper based application process was something of an admin headache. In addition, some of the courses have restricted access and we can control enrollment centrally allowing only those for whom a courses is mandatory to attend.

The Face to Face plugin sends email notification to the individuals designated manager as well as the Learning & Development team and such has been the success that we have transferred all of our training activity to this system.


The results have been fantastic; feedback from staff is positive, training uptake has increased and the quality of the data is much improved over our legacy system. We have a workforce with a huge variety of IT literacy and even those with a self proclaimed fear of computers express how user friendly and simple the functionality of the system is.
Moodle has helped many types of organizations achieve these kinds of benefits through eLearning. One core benefit, improved in the latest version of Moodle 2.0, is tracking vocational competency and grading proficiency. Organizations can define the competency and track results along a directed path.
When an employee achieves qualification in a particular skill, Moodle can automatically generate a certificate. To help reinforce course learning, blogs and wikis can be tied to different course competencies as reference materials for current and future trainees.
Management training is a very different kind of activity, but Moodle can handle this very well. For instance, trainers focusing on developing project management skills can create courses emphasizing teamwork and collaboration. These kinds of activities can't be done just sitting down in a single session alone with a computer – management trainees can use Moodle's social networking and instant messaging capabilities to work together with a team over a longer period, keeping in touch even from different office branches.
Contract us today to learn more about implementing Moodle for corporate training