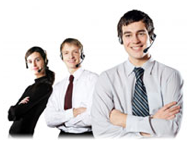 We're helping more schools and corporations implement Moodle for eLearning and training all the time. Even when they have an in-house IT team, it can be advantageous to outsource this activity. Why are they outsourcing their Moodle LMS implementation and support to us? Here are 7 reasons:
1) Guidance and best practices regarding Moodle eLearning, management and configuration. Moodle is open source, but the time needed to gain expertise on the LMS isn't cost-free (unless your IT department is working on a volunteer basis!). Our experts can train your experts, ensuring your help desk personnel are prepared to help your staff maximize Moodle's effectiveness.
2) Handling user problems that escalate beyond your help desk personnel's capabilities. Even after your in-house experts receive training, your organization may want a "failsafe" reserve of experts on-call to handle the toughest technical issues. We give you peace of mind.
3) Tracking, managing and resolving all user issues. If you don't have an in-house help desk, we can handle your organization's Moodle issues as you require help.
4) Taking care of all eLearning course management activities. If your teaching or training staff need help adding resources, assigning users to groups or executing other Moodle capabilities, we can handle that for you.
5) Handling Moodle system administration. Like all online learning management systems (open-source or otherwise), Moodle needs some TLC from time to time: performance monitoring, updating software, installing essential modules and more. We can handle all of that.
6) Integrating your LMS with Student Information (for educational institutions) or Human Resources Systems (for companies and non-profits). This can significantly reduce the administrative burden of maintaining the LMS.
7) Customization for your unique needs. Moodle 2 allows for a more flexible and user centric design. Review usability and update the look and navigation. Create optimized templates for students and instructors. With an increase in mobile users, this is also a good time to make sure your site is mobile friendly.
We handle your Moodle provisioning, Moodle hosting, long-term Moodle support and more. Contact us to learn more about implementing Moodle for institutional eLearning or corporate training