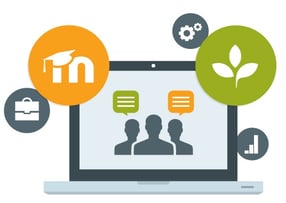 If you find that your business needs extend beyond what Moodle offers, Totara LMS is the LMS for you. Totara is an open source distribution of Moodle built specifically for the modern needs of businesses today. While Moodle suits the needs of the education sector, Totara was designed with the corporate world in mind; hence why it is sometimes referred to as the corporate version of Moodle. With Totara LMS, you receive all the same benefits from Moodle, with talent and performance management feautures built on top.
Here are just 7 of the many extended features Totara provides.
1. Hierarchies
Totara's hierarchies store your company's entire organization and job structure, so you can manage learning, drill down within reports, and control access to reporting data. This feature allows you to better organize learners, categorize job roles, build frameworks, set strategic goals, customize fields, define competencies, and administer line management.
2. HR Integration
To better manage and develop your talent, it's essential that your LMS connects with key business information systems. Maximize your return on investment and minimize your data entry tasks with Totara's HR sync. Totara's HR integration allows bulk uploads, field mapping, and database sync with many popular CRM's such as Salesforce, SAP systems and PeopleSoft.
3. Performance Review/Appraisal
With Performance Review and Appraisal, you can set strategic targets, objectives, form-based workflows, and printable outputs. There is also a 360 degree feedback tool that helps managers ask a wide group of participant feedback ensuring a more holistic review of staff member performance.
4. Compliance Training
In Totara, managing regulatory compliance is made simple. Totara allows you to define and manage the structure of certifications and recertification paths, as well as set expiration dates. You can edit notification templates to automatically send custom messages to those who require certification or recertification. You can also run reports on the compliance status of every person in your organization, as well as track upcoming expirations and progress toward certification renewals.
5. Performance management
Totara provides a steady channel of communication through discussion, feedback and analysis between managers and employers. This performance management capability allows you to conduct appraisals, and to align performance with personal and company-wide goals.
6. Individual Learning plans
In Totara, users can access and/or create templates, objectives, competencies, comments, evidence, and workflow priorities. Learning plans represent all of learning, competencies, and objectives employees are working on presently and their upcoming deadlines. Totara's learning plans also show what is mandatory, and what to prioritize. Learners love this feature because they can easily monitor their progress and directly access learning activities from their plan.
7. Report Builder
Totara is ideal if you require reporting and analytics to prove the impact of your eLearning programs on the bottom line. In Totara, you can set filters, set schedules, export, access and manage user-based data, data sources, and summary data reporting. Additionally, Lambda Analytika™ is a new reporting and analytics solution available for Totara users. We have put together an eBook explaining how Anaytika™ extends upon the Totara's built-in reporting capabilities.