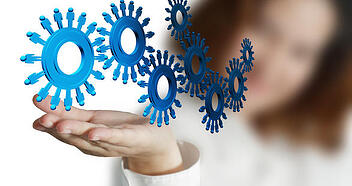 Less than a week ago Bersin by Deloitte published a 22-page report, HR Technology for 2015: Ten Big Disruptions Ahead, which provides insight into the largest HR technology trends for 2015 and how organizations can keep up. With the HR software market growing past the $15 billion mark this year, venture capitalists and top-tier talent are flocking to this booming market causing rapid and sweeping innovation. We've broken down the ten big disruptions identified by Bersin and Deloitte so you can get a jump start on evaluating where your firm sits within the HR technology landscape in the upcoming year.
1. HR System Now Valuated on User Engagement Properties
When HR software first came to market 30 years ago, the technology was built around automating, storing and managing HR processes and information administrated by HR staff. These forms of HR Management Systems (HRMS) are now largely self-maintaining and used as a self-service tool for employees. The next generation of HRMS are going to be focused on how easy it is for employees to engage with the HRMS and how effortlessly it will fit into daily workflows.
2. Anytime, anywhere Mobile Access
With Global smartphone users reaching 1.6 billion, surpassing laptop and desktop PC owners at 1.5 billion combined—employees are now more likely to access HR applications on their smartphones. 2-5 times more likely to be precise meaning that HR systems should be equipped with mobile applications that are interactive and easy to use.
3. Reporting, Analytics, Intelligence and Better Decision Making
Many organizations have been collecting data with their HRMS for the past 15-30 years but have yet fully realize the predictive power that their data holds. Bersin points out that while finance and marketing departments are apt at implementing analytic solutions, HR departments are far behind with only around 4% of organizations effectively using predictive models for their workforce. With this insight, HR systems will be moving towards intelligent data-driven applications.
4. Big Data and the Science of Leadership
Have you ever taken a leadership or personality assessment for the organization you work for? Well, imagine the power of collecting data from these tests and merging them with HR Big Data to understand the correlation between skills, personality and organizational culture? Companies are in the initial steps of creating these disruptive analytic tools to improve work environments and work-life balance.
5. HR & The Internet of Things
With real-time communication and employee sensing being built into internal HR systems, HR managers are benefiting from real-time and immediate feedback on workplace learning and management issues. Another example Bersin highlights is the evolution of the learning management system (LMS). Originally a place to store and access course content, the LMS is now a place for employees to learn via social skills and content matching applications. This means that employees are able to consume learning content in Facebook-like ways—say by taking the same courses as your supervisor, mentor or peers.
Stay tuned to our blog tomorrow for the last 5 disruptive innovations in HR technology. It is an exciting time for HR professionals and employees alike with the upcoming technology advances this year! We look forward to sharing the rest tomorrow.
Additionally, check out our whitepaper on how predictive analytics deliver value. With the explosion of Big Data from talent and performance management systems, HR executives are beginning to see the benefit in utilizing this information for predictive analytics and ultimately, better decision making. This whitepaper explains the types of questions HR managers can answer with Big Data and predictive analytics.